No-Code Podcast Episodes of Note
If you are looking for some inspiration, what better way than to listen to some of the CEOs of the many no-code platforms that color the software landscape? Below are some notable episodes that you might find to be worthwhile.
Vlad Magdalin, Webflow CEO
Notes:
Vlad views "Webflow-as-we-know-it" to be the 5th attempt after four failed attempts at the same idea. And all within a span of nine years (2004-2013).
When trying to raise money in the beginning, post-YC, they found themselves in one of those precarious situations familiar to many no-code/low-code startups: "Half of the investors said it was too complicated for them to understand and wasn't easy to use, and on the other side we had half of them saying it wasn't powerful enough. So we were in this no-man's land -- 'there's no market here etc.'"
The actual product market fit moment came when they were able to move beyond just landing pages and ship their visual CMS builder.
Walking the fine line of growth: "We have enterprisey customers paying 50k per year, but we definitely never want the product to go beyond what an individual can be empowered by. It's hard to take an enterprise product and make it a consumer product. But it's magical when you can have an individual use your product from start to finish and then have teams be able to 10x that and still find success. "
Hilarious Moment: around the 25:50 mark, Calacanis blindsides Vlad with a "Think about this: you've got these socialist a-holes in this world...," whereupon Vlad starts laughing nervously as a puzzled expression quickly creeps across his face. He manages to cut Calacanis off with, "Uhhh..where is this going?" Calacanis refuses to relent, however, and more amusing dialogue follows.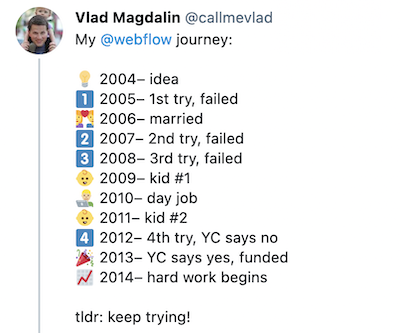 David Siegel, CEO of Glide
Notes:
Admirable clarity of thought and sympathetic posture for a startup CEO. Insistently repeats that Glide is not intended for creating apps for the App Store and that they are turning their focus towards "Apps for Work". But he manages to do it in a calm and reassuring way, and without being a jerk to all the viewers who had their dreams set on winning the App Store lottery.
Again, love that he unashamedly says what Glide is not. "People ask every day how to make the next TikTok. It's important for people to know that it's not our agenda to help you make the next TikTok. If you're waiting for a feature in order to make the next TikTok, don't count on us making it because it's not the customer we're going after...If you're gonna try to make the next Facebook, you're probably gonna make zero -- you're probably gonna make negative." Sounds harsh on paper, but again, his delivery on Glide's mission is firm but sympathetic.
After gently letting down all those App Store hopes and dreams, he convincingly makes the case that there's lots of opportunities to make money from apps outside the App Store, "The real way to make money is not by making the next TikTok but by making apps for companies who have a real problem, solved by an app, who will pay you money today...If you become an expert in no-code tools you can help companies solve problems 10x to 100x more quickly than custom software development." Fighting words, no doubt.
He also touches on an all-too-familiar pain point for all those products that are focused on building web apps: "We only used the word app because we couldn't find a better one to describe custom software. We don't like saying 'create custom software' or 'custom tool' or whatever...We only started with a phone because it's the easiest thing to design."
Like others, they have struggles with terminology: "We don't even use the term 'no code'. What we think we're doing is inventing a better way to make software."
Hilarious moment: After spending a good deal of time hammering home the point about Glide not being suited for native apps, the interviewer asks Siegel the most urgent question on everyone's mind: "How do you create a native app in Glide?" Siegel's split second expression is priceless, but again, he lays the law down with grace.
Howie Liu, CEO of Airtable
Notes:
Airtable is an outlier in the sense there had a two/three year building phase before launching the product.

Claims to have de-risked this phase with private prototypes developed every 3-5 months and tested with potential users. Also mentions that they talked to lots of people who had tried and failed to build similar products. The thesis they developed was that if you built anything that was not as easy to use as Excel, you would die. What needed to be done was very clear to them. His experience at Salesforce gave him an important insight into spreadsheet needs for example. Furthermore, the success criteria with respect to data was also very clear: data loss in Excel was non-existent so any data loss in an online solution would also not be acceptable.

Didn't launch quickly because the MVP bar for an Excel replacement was very high and also because he was confident in their first-principles based long-term market strategy.

He forced himself to become proficient in coding because potential technical co-founders wouldn't take him seriously as just an "idea man" (Nowadays, thanks to these types of tools there are other options for non-technical co-founders.)

Liu doesn't explicitly mention it as the reason but I think one of the main reasons they were able to spend two/three years before launching was that Liu had sold his first company to Salesforce. I would think that track record would help with not having investors pressure him for an early launch. Also, he would probably have had some means to extend the runway if necessary.

More discussion on how they tracked the competition during those early days and some discussion on how what they were attempting to build was going to be different than Google Sheets for example would have been nice. Added to that, I was wondering at what stage making an app from a spreadsheet became feasible.
**Emmanuel Straschnov, co-CEO of Bubble **
Notes:
Fighting words on churn: "We have expected churn when businesses built on Bubble fail for business reasons. But what we see is that when users have a new business, they come back to build it on Bubble…if you are in the long tail it is ok to have high churn [gives Shopify and Stripe as similar examples]…We don't optimize on churn, we optimize on net revenue."
Still views the learning curve to be something to be improved. Mentions more focused curriculum and better UX as things they aim to develop. In the early days of Bubble Emmanuel was spending an hour a day on calls with users for support, which contributed to their growth.
On tackling the difficultly in app building: "Instead of restricting the tool to prevent users making mistakes, we want to create the tools to help users help themselves [like the Bubble debugger]"
Again terminology nitpicking is a common theme: "My personal goal is that in 5 years we don't talk about "no code" anymore. No-code just becomes a way to build things."
Difficulty in nailing pricing: "We have people in high-school literally just playing or building side projects. And then we have 300 million dollar companies running on us. We have to find a pricing scheme for both. The other challenge is that we target non-technical people and it is difficult for them to understand the technical resources it takes to run an application…So now we charge for performance."
Gary Hoberman, CEO of Unqork
Notes:
Fighting Words: "What's different about us from something like Wix is this: what we drag and drop can replace the most complex trading platforms, transaction systems, the 20 million transaction-per-second type systems -- all those things."

According to Hoberman, the role of coders and developers in Unqork is to develop reusable components that users will then drag and drop without code to build their applications. What's interesting is that he takes a very firm stance against mixing no-code with code: "We say no code means 'No code you inject. No code you generate.'"

Continuing with this approach, either someone is coding to develop reusable components or someone is dragging and dropping those components without code. He is very against writing custom code mixed in with no-code components. For him, every line of custom code seems to be a missed opportunity for a reusable component that many other customers can also use.
No-Code Podcasts to Keep Tabs On
With new no-code podcasts popping up in the community from time to time it's sometimes hard to make a habit of routinely surveying the landscape. Nevertheless, I thought I would mention a couple worth keeping track of.

These guys are great to follow because they give good weekly/monthly recaps of recent developments in the no-code world. If you're too busy or lazy to check your twitter feed or those unread newsletters in your inbox, you'll do no worse than tuning in to Visual Devs for the latest happenings and updates in the no-code ecosystem.
For those that prefer the laid back approach this podcast might fit the bill since their approach is more casual than the podcasts that primarily focus on interviewing guests. A word of caution though, the podcast titles usually refer to topics that are taken up later in the episode, so don't be surprised if they take their time getting there:) But with their thoughts and comments on no-code current events this podcast does really make you feel connected to the community, so credit where credit is due.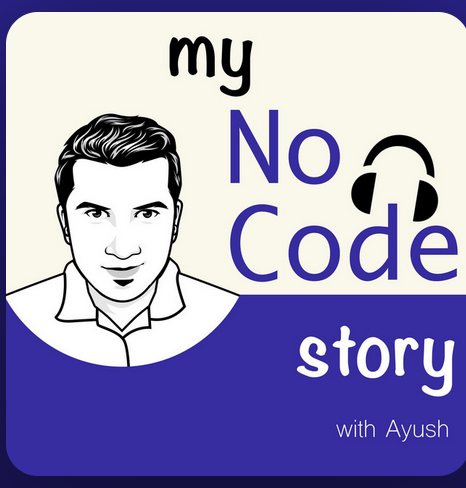 This one is a good podcast that's focused on interviewing app builders about their no-code trials and tribulations. From what I've listened to so far, Ayush is good at not getting in way of his guests and giving them enough space to get their interesting viewpoints and experiences across.
A sample episode I can recommend is the one with Max Haining, the founder of 100DaysOfNoCode.com. In that episode Max doesn't shy away from acknowledging the learning curve of no-code tools that's completely absent from the "build in 5 minutes" marketing material. He points out that only very few of those satisfy the "low learning curve combined with the speed which you can move to build things", but those are the ones that give him the biggest hope for the future of no-code. You can check out other no-code stories here.